The Youth Fast-Pitch program started in 2002. 6 & under and 8 & under are still slow-pitch while the other ages enjoy fast-pitch. The Recreation Department is moving in the same direction as scholastic sports in hopes that it will further the knowledge of our youth.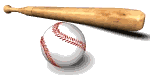 Tryous are MANDATORY. March 6, 2003 at 5:30 pm. If your child is playing in the 12u, 14u or 17u league they must attend tryouts.
*PARENTS INFORMATION*
**REGISTRATION**
Location: Lee County Parks and Rec. Office
110 Starksville Avenue, 759-6047
Dates: Monday Feb.17 thru Friday Feb. 21
5:00 p.m. to 6:30 p.m.
Saturday Feb. 22, 11:00 a.m. to 2:00 p.m.
Monday Feb. 24 thru Friday Feb. 28
5:00 p.m. to 6:30 p.m.
Cost: $45.00 add $15 after Feb. 28
Please bring a copy of a Birth Certificate
**LEAGUES**
~Age control date is January 1 of current year.
6 under ~8 under ~10 under ~12 under ~14 under ~17 under Coaches are needed in ALL Age Groups
**DRAFT**
March 4 for 6, 8 and 10 & Under and March 6 for 12, 14 and 17 & Under held in the Lee County Parks and Rec Office. Coaches will be certified this year with NYSCA.
**TRYOUTS**
This year is the first year we will begin tryouts. Everyone that signs up with 12 & Under, 14 & Under, and 17 & Under will be expected to be at tryouts. If the child does not attend tryouts, that child will be placed on a team after draft. Tryouts will be held at the Kinchafoonee Sports Comlex March 6 at 5:30 pm.
**OPENING DAY**
April 12, 2003 will be the beginning of the 2003 Season of Youth Softball. A Pre-Season Tournament is tentatively scheduled on that same day.

**SEASON**
The Season will begin on April 12 and end on May 31. Schedules are made to play on Monday, Tuesday, and Thursday. Wednesdays and Sundays are never scheduled to play games. Friday and Saturdays are open for tournaments, and make-up games. According to the number of teams this year Saturdays may be scheduled for regular season.